One of JMIL's key products is the export of castoroil and oilseeds.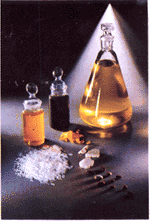 JMIL has over the years built up a reputation of being a respected vendor the world over.
India is one of the largest producers of castor oil in the world. JMIL saw commercial value in the castor seed as long back as in 1975. A modern plant in Jamnagar, Gujarat was set up for this facility and has the ability to comfortably flush out oil in different grades and categories, for instance

Indian Castor Oil Commercial Grade
Indian First Pressed Degummed Grade Castor Oil
Indian Refined Castor Oil First Special Grade
Castor Oil Pale Pressed Grade
B.P. Grade Castor Oil ( Medicinal )
Indian Castor Meal

The benefits of the castor seed are two fold - one to produce oil and the second, to produce castor meal, the latter bearing a high nitrogen, phosphoric acid and potash content, makes it an excellent fertilizer. Also rating importance is its use in the manufacturing of paint, soap, wood adhesives, synthetic fibres, and lubricants etc.
Packing :
In bulk
In 200 Kgs new mild steel drums.
(80 such drums to be stuffed into one 20 ft. container; total 16 MT per container)
ISO Tanks
For more details contact JMIL.
---