India is one of the leading players of Rice exports and shares the distinction with Pakistan in the area of Basmati Rice exports.
JM Group has always remained in the forefront in the e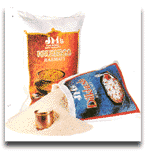 xport of Rice throughout India's continually improving performance. It has mostly concentrated in the Gulf market for Basmati and NonBasmati varieties as well as shared a big chunk of the African and European markets. The 1970's manifested a boom in Rice exports to the Gulf and JM had a sizable market share. It subsequently stayed ahead in the region by providing improved quality / services by adopting the most modern techniques and machinery coupled with well experienced manpower, which has led to the success of JM Group.
In its pursuit of excellence the JM Group entered into manufacturing activities well in time by establishing well equipped/machined manufacturing unit in the heart of RICE growing region INDRI, Haryana.Presently it has acquired all modern machineries whether imported or Indian including SORTEX machine, Graders, Sievers, Gravity Seperators, which are required to produce quality products. JM Groups achievement is not confined only to certain varieties of Rice but it is capable of producing quality product in all the varieties of Rice e.g. All varieties of SELLA / RAW BASMATI RICE , PARBOILED / WHITE NONBASMATI RICE etc.
---
THE DOMESTIC MARKET :
To cater to the demand in the domestic market for clean, ready-to cook Basmati rice, the company has launched two brands JM's KHUSHBOO and JM's DILKHUSH.
JM's KHUSHBOO is white Basmati Rice - Average Grain Length 7 MM - sortexed and packing is available in 10 kgs, 20 kgs and 35 kgs bag, targeted at the upper end of the market including institutional consumers. Retail packs of 1 kg and 5 kg are set to be launched in the metro cities of Mumbai, Pune, Ahmedabad, etc.
---
JM's DILKHUSH is also a white, old Basmati Rice. Well preserved for more than a year, well cleaned, length more than 7 mm. Sortexed- excellent cooking granulity. Packed in 1 kg, 5 kgs, 10 kgs, and 35 kgs packing . Available in Mumbai.
For details contact JMIL
---